You will be redirected to new permanent homepage of this product www.intercrypto.com in
10

seconds.
Master Uneraser (Deleted Files Recovery Software for Windows Vista/XP/2000)

Features
Deleted Files Recovery Software
Master Uneraser can recover accidentally deleted files on your hard drives (even files deleted from Recycle Bin). It has direct access to hard drive on low level and ignores information about existing files on drive, because it analyzes free space of hard drive (where it can find deleted files). It is not well known, that Windows does not delete files completely. It just removes record of file from file system. So, Master Uneraser has good chances to recover deleted file in case if it has not been overwritten by new files.

Master Uneraser is specially designed for new Windows Vista and has native Vista interface like Office 2007 and it has native support for Vista Aero Style.
But Master Uneraser is compatible with previous versions of Windows: 2003/XP/2000.

Master Uneraser supports all major File Systems used in Windows like: FAT (VFAT, FAT16, FAT32), NTFS4, NTFS5. It supports long file names and non-English characters in file names. What does it mean? It means that you can use Master Shredder to recover deleted files on any media that has file system compatible with Windows Operating System. Moreover it has possiblity to recover deleted NTFS compressed files.

It works with any media where file can be deleted, like Hard Drives, USB flash memory sticks and etc.

Master Uneraser is reasonably priced and costs only $29.95 USD. But we think it is good idea to give the possibility to evaluate this software without buying it for all comers.
So, trial version can be downloaded and tested during the period of 31 day. And only if you like it, you can buy it.

If you want to know more about how to buy license code (converting trial version into the full functional one) - please click here. Please note, we sell not only license code but provide technical support for registered users and give them discount for other security software developed by our team.
Read what's new in version 1.1 ( September 09, 2007 )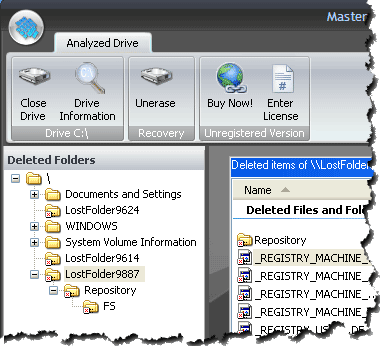 We will be glad to answer all your questions. Do not hesitate to contact us: support@secureaction.com