You will be redirected to new permanent homepage of this product www.cryptoexpert.com in
10

seconds.
| | |
| --- | --- |
| Strong on the fly encryption software for Windows Vista/XP/2000 | |
---
To make sure no unauthorized person can get access to your data...
CRYPTOEXPERT 2018 PRO
High encryption for virtual drives: AES 256 bit, CAST 128 bit, 3DES 168 bit, Blowfish 448 bit.
$59.95
Buy Now


Current version is 7.8.3 October 11, 2008 .
Brief List of Major Features
Multiple "virtual" hard drives in your system protected by password

Strong encryption using AES 256 bit

Support for huge encrypted drives 256 Gb and larger

Two factor authentication support - strong passwords plus decryption keys located on any type of USB Memory Sticks

Disk Firewall to protect private data from stealing

Compatibilty with Windows(R) Vista(R) 32 and 64 bit as well as XP 32 and 64 bit (Windows 2000 is also supported).

.
Features
Strong Data Protection Software
Overview
CryptoExpert creates new virtual hard drives (K:, T:, Z: etc). It uses 256 bit encryption key to protect data on the virtual drive. All virtual drive's are really located in one big encrypted drive image file.
How it works. Short tutorial
All you need is to enter password when you mount a container.
For example, on the next screenshot you see the list of storage devices installed in our test system. There are one hard drive (Disk C:), one floppy drive (Disk A:) and one DVD-ROM drive (Disk D:).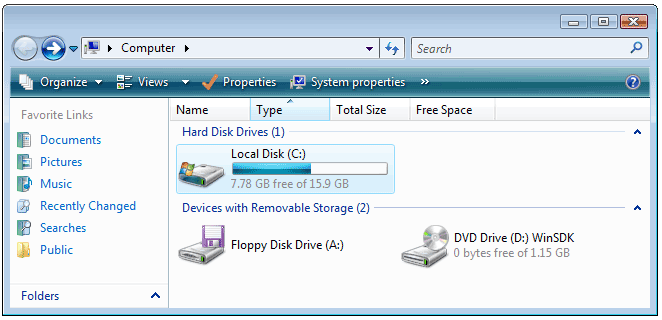 Now we'll show you how CryptoExpert 2007 Professional can help you to store all your private files securely. Assume, you already created several encrypted drive image files using CryptoExpert. Just see how it is easy to work with your documents and how fast is our real-time disk encryption software. Let's assume, your encrypted drive image files are located in C:\Encrypted Containers\ folder.
In the previous Windows Explorer window we click on Local Disk (C:). Now you see the root folder of your Local Drive C:.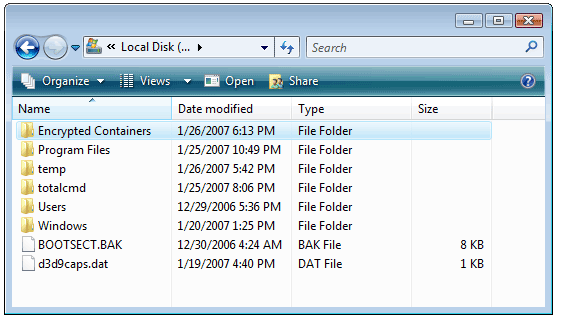 Now we go to C:\Encrypted Containers folder to see the list of encrypted drive images we created before. Please note, you can place your drive image files to any folder/any drive/even network drive. On the next screenshot you see two files. Every file is the encrypted image of virtual hard drive.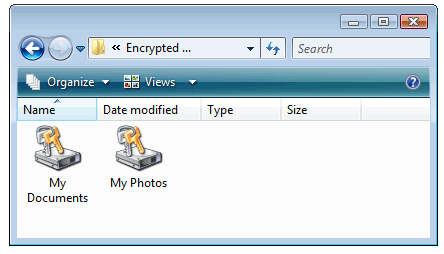 For example, let's assume we want to look at private photos/edit or even move existing photos from a insecure place to the encrypted one. For this purpose we need to mount "My Photos" container. Click it by right mouse button to see the shell context menu. In the menu click Mount Container (CryptoExpert). You will be asked to enter a secret password. Just imagine, nobody can see your photos, financial documents and etc on this drive because only you know the right password.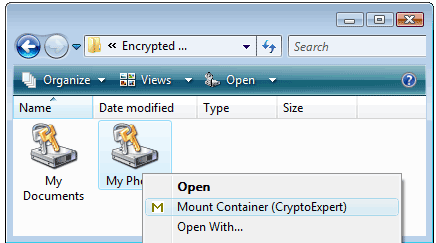 Done! Now you can see NEW HARD DRIVE IN YOUR SYSTEM! On the next screenshot the new mounted drive has name Local Disk (E:). Now you are able to work with files in the usual way as you do with files on any hard drive. CryptoExpert Real-Time encryption/decryption is so fast that you can even watch Movies located on this encrypted drive without speed degradation; Excel, Word, Photoshop, ACDSee, batch files in console mode - no limitations! Of course, you can copy/move/modify/delete any files to/from this hard drive E:. So, it is not read-only media. You can write encrypted image of hard drive (container) to DVD and send to your friend. Assume, your friend has CryptoExpert and knows password for "My Photos" encrypted drive image file.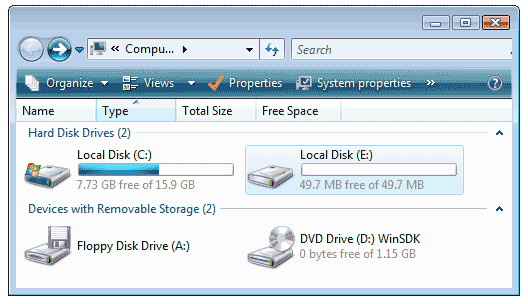 Now we do not need to work with our private files anymore. To hide Local Disk E: just right click Yellow Key icon in Tray Notification Area, then choose Dismount menu item.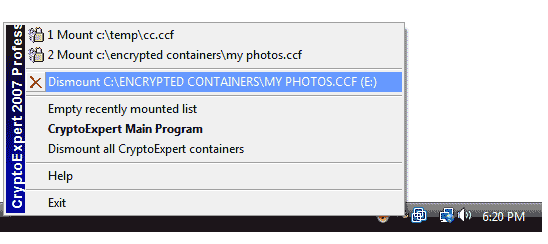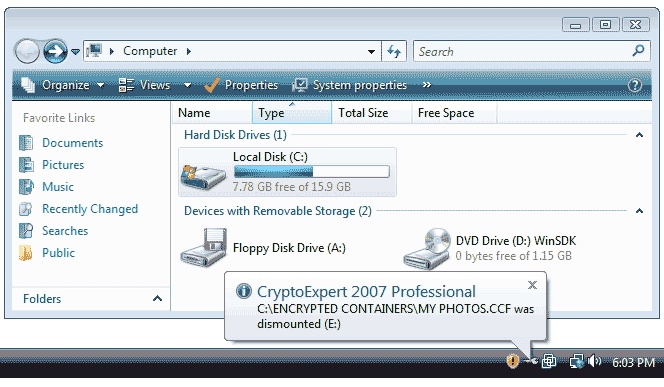 Voila! Local Drive E: disappeared from your system!
If you have any questions, do not hesitate to contact us: support@secureaction.com. All questions will be answered.
Drive Encryption Features
Using 4 powerful encryption algorithms to encrypt your data: AES, BLOWFISH, CAST, 3DES which are
world's standards of encryption


Access to your files on virtual volume on the fly


Mapping any free drive letter like G:, F:, K: for virtual volume


Ability to create large encrypted containers (up to 250 Gb and more)


Support for any kind of USB Flash Drives (including iPOD) as passwords storage for cryptoexpert's containers.


Requires password authentication before the files become accessible


Provides two factor authentication: Password plus Decryption Key located on USB Memory Stick (any type). Of course, CryptoExpert can work in password only mode. But just magine - you plug your memory stick/iPOD in USB port and new virtual drive is mounted automatically....


Works with all Windows application and any application can work with CryptoExpert's virtual hard drives

Ability to open and mount containers located on other local network computers


Ability to share encrypted hard drives between network users


Really Fast


No any backdoors are in used encryption algorithms! No access possible under any circumstances. If you do not remember the password you cannot access the encrypted contents. There is no special procedure, secret code, or hidden entry method to fall back on.


Download self-extracting MSI installation package (free 31 day trial version):
cryptoexpert2008pro.msi (7.5 mb)

CryptoExpert 2008 Pro is "try-before-you-buy" software. Registration gives you the right to use CryptoExpert after the 30-day trial period, right to use it in commercial environment, receive technical support and use features available only for registered users. If you have a question about the registration procedure details, write a message to sales@secureaction.com


- No nags at startup and in messages
- Ability to mount several volumes at the time
- Ability to use passwords with length more than 3 symbols
- No restrictions on containers size
- Lifetime technical support including support via e-mail.
- FREE upgrade to new versions.
- Product notification by e-mail.
- Beta testing for newest version.

Our ordering page is on a secure server, ensuring that your confidential information remains confidential. As soon as we'll be notified that your order has been processed (usually in one business day), we will provide you with the serial number which will register your copy of CryptoExpert, If you would not like to use you credit card in the Internet, you can order CryptoExpert 2007 by fax of phone; cheques, money orders and purchase orders are also accepted. The order form is included into the latest downloadable version of CryptoExpert 2007. Please don't send the cash to our mailing address! If you want to make a payment by wire (to our bank account, please contact with sales@secureaction.com
Order the fully licensed version of CryptoExpert 2018 Professional ( $59.95 )
---

A short list of CryptoExpert 5 star Awards from different places

Download-net
5 stars award
Download-web
5 stars award
ShareUp
5 stars award
File-Archive
5 stars award
FileTransit
5 stars award
FileHungry
5 stars award
UkWares.com
5 stars award
BrotherSoft.com
5 stars award
PopularShareware
5 stars award
TopShareware
5 stars award
ZDNet.DE
5 stars award!
OneKit
5 stars award
---