Advanced Encryption Package 2010 Professional (File Encryption Software)
for Windows 7/Vista/XP/2000/NT/9X

AepPro.com: File Encryption Software for Windows 7




Features
Advanced Encryption Package 2010 Professional
Professional files and text encryption utility for Windows OS (R)
Compatible with Windows(r) 7
$49.95
Buy Encryption Software


New in version 4!
RSA algorithm support. Now it is possible to encrypt files using public key file and decrypt files using private key file.
Added PKI keys Manager and Generator. It supports keys: 512, 768, 1024 and 2048 bits.
Improved command line tool.
New in version 4.2.0!
Added new file wiping algorithm! Now AEP2010 Pro can securely delete your files using 17 wiping algorithms, including U.S. DoD 5200.28, NATO Data Destruction Standard, U.S. Air Force Standard, U.S. Army Standard, Russian GOST P50739-95 Data Destruction Standard and others!
Advanced Encryption Package 2008 Professional destructs files not only at FAT16 and FAT32 formatted hard drives and other media, but it includes special algorithms for NTFS formatted hard drives, it recognized and destructs NTFS compressed and encrypted files. It cleans files sector by sector and cleans unused space in file clusters. Just try it now! You can download and try this software for free during 31 days period.
New in version 4.4.0!
Added support for USB Flash Drives! Now it is possible to store all your encryption passwords on USB Flash Drive. You just need to remember single Master Password. All other encryption keys will be stored on flash memory in an encrypted form (AES 256 bit encryption is used). Now is is possible to randomly generate big binary encryption keys and store them in your pocket.
Strong file encryption software
Advanced Encryption Package 2008 Professional builds on our award winning Advanced Encryption Package 2010. Using AEP2010 PRO you can encrypt and password protect your files using secret key (passphrase) and 20 strong encryption algorithms.
Professional version takes this feature packed cryptography product, and makes it even more secure by adding a host of new encryption algorithms such as: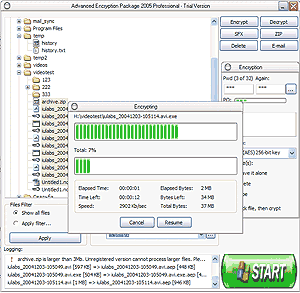 AEP2010 Pro. Screenshot. Click to enlarge
What is file encryption and decryption?
Encrypting data means getting it transformed into a string of characters undecipherable by others.

What actually happens is that by using a secret-key i.e. the equivalent of a code, the cryptography system transforms your data into gibberish i.e. it realises password protection. If the scrambling of the data is done properly, the original file can only be unscrambled and read by someone who knows the secret key i.e. the code used to encrypt the file (your password).
High encryption of file ensures that even if someone gets access to your computers he would not be able to read the data stored there. Encrypted files can safely be sent by electronical mail or placed on a network with the assurance that the data can be read only by those who were meant to have it.

Basic data encryption systems have been used to protect secrets for many centuries. But today's encryption methods (for ex. modern advanced encryption standard) are far more sophisticated and reliable than ever before because the encryption code itself is a very complex computational transformation that is only feasible with desktop machines in the early 1990s
What can I do to be safe?
Each time you work with sensitive data, or wish to communicate with someone else confidentially, you can use Advanced File Encryption provided by AEP2010 Pro to protect your files. (The Help Menu provides a step-by-step guide of how this is to be done).

Ensure that all you stored information is also encrypted so that it is safe from the eyes of snoopers, competitors or uninvited investigators.

And when getting rid of old files or data, don't just delete them, use the built in File shred function to securely delete file to be absolutely safe.

Features
Interface
Easy in use


Skins (13 skins in standard downloadable package)


AEP2010 integrates itself into Windows Context Menu, thus, you can encrypt/decrypt/shred files directly from Windows Explorer
Work with files
Batch Encryption: encrypt multiple files in a batch, encrypt folders or entire directory trees at one time.


AEP2010 PRO encrypts every kind of file on every kind of medium, whether floppy disk, removable hard drive, zip drive, tape drive or other



Full .ZIP support AEP2010 PRO can browse for existing .zip archives, extract its contents and even create new .zip archives!


Built in files compression to reduce size in transmission
Secure communicating with others via Internet
Ability to send encrypted files and messages via Internet



Ability to make self-decrypting executables (to transmit private files via e-mail as secure attachments) for sending it to people who do not have AEP2010 PRO. The recipient can unlock the data by just starting the self-extracting file within Windows and entering the passphraze.


The only requirement for self-extracting files is that the recipients must be running some form of Microsoft Windows. All they need is a key to access the contents i.e. a totally secure system is possible without any modification of existing mail systems using any mail system that supports file attachments.


Ability to encrypt email text (or any other text message) to send it securely via e-mail, chat, or instant messengers like ICQ, AOL Messenger, Microsoft Messenger and etc. The recipent must enter the password to read this message. Advanced Encryption Package has special clipboard encryption tool. You just need to press special hot key to encrypt or decrypt text in clipboard.
No backdoors
No "back door" in the software - No access possible under any circumstances. If you do not remember the password you cannot access the encrypted contents. There is no special procedure, secret code, or hidden entry method to fall back on.


Statistically impregnable against brute force attacks. For encryption and protection your important documents, AEP2010 uses 20 strong encryption algorithms: DESX, BLOWFISH, RIJNDAEL(AES), CAST,3-DES, RC2, DIAMOND2, TEA, SAFER, 3-WAY, GOST, SHARK, SQUARE, SKIPJACK, TWOFISH, MARS, SERPENT

AEP includes the dictionary of 45,000 common passwords to prevent user of using unsecure words

AEP has user privacy tool removing all internet traces like URL history, typed URLs, Favorities, Recycle Bin, typed passwords in web forms and etc.

Built in file shredder - i.e. wiping the contents of the original pre-encrypted file beyond recovery to make sure that not even a trace remains after shredding. (matching and exceeding the specifications of the U.S. Department of Defense) to stop software and hardware recovery tools. With using AEP2008 Pro, nobody can recover deleted files!
AEP2008 Pro supports 18 file wiping algorithms: Peter Gutmann algorithm, U.S. DoD 5200.28-STD, VSITR, German Standard, Bruce Schneier algorithm, NATO Data Destruction Standard, GOST P50739-95 Russian Standard, NCSC-TG-025, The National Computer Security Center Standard, U.S. DoD 5200.28-M, RCMP TSSIT OPS-II, Canadian Standard, NAVSO P-5239-26, US Navy Standard, AFSSI-5020, US Air-Force Standard, AR380-19, US Army Standard, HMG Infosec 5, PRNG Stream Wipe, Quick Wipe algorithm.
RSA Algorithm Support
AEP2010 Pro supports symmetric and asymmetric encryption. In first mode (symmetric) you just need to enter a password to encrypt and/or decrypt files using one of 17 strong encryption algorithms including AES. In second mode (asymmetric) AEP uses two different key files: public and private. Public key file can be available to everyone in the world. Public key file is used to encrypt files. But this file cannot be used to decrypt file - only encryption. Private key file - is your secret password file. You should use it to decrypt files.

AEP2010 PRO includes PKI keys manager and key generator tool. It generated RSA keys with strength: 512, 768, 1024 or 2048 bit.

Command line utility can be used to automate enryption process. It supports all RSA functions.

RSA encryption is used with strong symmetric encryption algorithms together

AEP2010 PRO can protect the use of private key file by password. In this case you can keep this secret file in public domain. It cannot be used by another persons because it is needed to know the right password.
Latest version & Download Link
Do you still have questions?
Bruce Schneier's Applied Cryptography (2nd Ed.) is the crypto Bible for the professional engineer and interested layman. It's a good survey of the state of the art in crypto techniques and protocols. You can also subscribe to and read back issues of Crypto-Gram, Bruce Schneier's monthly newsletter about cryptography.
AEP2010 PRO is "try-before-you-buy" software. Registration gives you the right to use AEP2010 PRO after the 30-day trial period, receive technical support and use features available only for registered users. If you have a question about the registration procedure details, write a message to sales@secureaction.com


- No nags at startup and in messages
- Ability to use passwords with length more than 3 symbols
- Ability to encrypt/shred files larger than 200Kb
- Free upgrades, fixes and email support during 12 months
- 50% discount to renew your subscription after 1 year
- Product notification by e-mail.
- Beta testing for newest version.


Order the fully licensed version of Advanced Encryption Package 2010 Professional ($49.95)

---
TopShareware.com
5 Stars Award and Editor's Choice!
SoftPile.com
Most popular program in Security Softwares
PopularShareware.com
Editor's Choice Award!
BrotherSoft.com
5 Stars and Editor's Pick Award!
ZDNet.DE
5 Stars Award!
Download2You.com
5 Stars Award!

Download-Web.com
5 Stars Award!

FileTransit.com
5 Stars award!

FileHungry.com
5 Stars Award
GlobalShareware
5 Stars Award
---
Have you ever sent an encrypted file, only to find that even the recipient can't read it? With Advanced Encryption Package Standard, not only can you encrypt files for your own protection--you can easily create "self-decrypting" versions of your files that others can run without needing GUIDESX or any other software. That doesn't mean the encryption is weak, though; Advanced Encryption uses four strong algorithms. The program includes a file shredder that wipes the contents of your original files. It also integrates nicely with Windows Explorer, allowing you to use Explorer's context menus and avoid having another window.

Advanced Encryption Package included into 5 top encryption tools of the year list!
| | |
| --- | --- |
| PCWorld Magazine (August 2005): | |
| | AEP 2006 Pro features an Explorer-like file system for encrypting, decrypting, deleting, and compressing e-mail messages and files. The program is geared more toward IT folk and security geeks than toward everyday users... you expected to be familiar with terms such as SFX (self-executable encrypted files). Expert users may prefer AEP 2006 pro's click-'em-and-encrypt-'em approach to securing data... |