| | |
| --- | --- |
| User friendly on the fly encryption software for Windows 2000/XP | |
---
To make sure no unauthorized person can get access to your data...
CRYPTOEXPERT EXPRESS
User friendly on the fly encryption software
$29.95!
Buy Now


Current version is 2.1, December 19, 2006. .
Features
Strong virtual Hard Disks Data Protection Software
Overview
CryptoExpert is simple to use on the fly encryption software. It creates encrypted virtual disks and these disks are visible as usual disks with drive letters (for example, G:, H:, Z:, i.e. with any drive letter that is not used by other system devices). It uses AES encryption to protect data on this drive.
How it works
The data stored on a CryptoExpert disk is stored in the container file. A container is an usual file (but strongly encrypted), so it is possible to backup a container, move or copy it to other disk (CD-ROM or network, for instance) and continue to access your encrypted data using CryptoExpert. Any free drive letter (or choosen letter) in the system may be used to mount and to open an encrypted file-container for access.

Transparent for Users
When the virtual disk is opened, you can read and write data as if it were a conventional removable disk. You can do anything with a CryptoExpert virtual drive that you can do with a normal hard drive.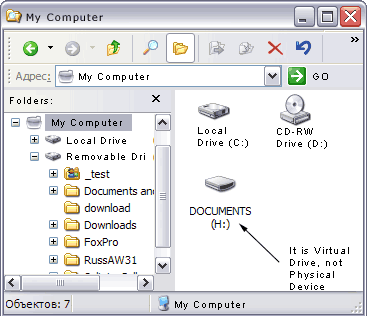 Tthe encrypted volumes require password authentication before the files become accessible.
This Product Drive Encryption Features
Using 4 powerful encryption algorithms to encrypt your data: AES, BLOWFISH, CAST, 3DES

Access to your files on virtual volume on the fly


Mapping any free drive letter like G:, F:, K: for virtual volume


Ability to create large encrypted containers (Max 512 Mb). If you need to create larger containers - please look at CryptoExpert 2006 Professional.


Requires password authentication before the files become accessible


Works with all Windows application - even DOS applications


Really Fast


No any backdoors in used encryption algorithms! No access possible under any circumstances. If you do not remember the password you cannot access the encrypted contents. There is no special procedure, secret code, or hidden entry method to fall back on.




Download self-extracting installation package (free 31 day trial version):
cexpertxp_setup.exe (1mb)

CryptoExpert Express is "try-before-you-buy" software. Registration gives you the right to use CryptoExpert after the 30-day trial period, right to use it in commercial environment, receive technical support and use features available only for registered users. If you have a question about the registration procedure details, write a message to sales@secureaction.com


- No nags at startup and in messages
- Ability to mount several volumes at the time
- Ability to use passwords with length more than 3 symbols
- No restrictions on containers size
- Lifetime technical support including support via e-mail.
- FREE upgrade to new versions.
- Product notification by e-mail.
- Beta testing for newest version.

Our ordering page is on a secure server, ensuring that your confidential information remains confidential. As soon as we'll be notified that your order has been processed (usually in one business day), we will provide you with the serial number which will register your copy of CryptoExpert, If you would not like to use you credit card in the Internet, you can order by fax of phone; cheques, money orders and purchase orders are also accepted. The order form is included into the latest downloadable version of CryptoExpert Express. Please don't send the cash to our mailing address! If you want to make a payment by wire (to our bank account, please contact with sales@secureaction.com
Order the fully licensed version of CryptoExpert Express
---