CryptoCrat 2005

Take a full security control over your sensitive data
Features
Files Encryption Software - CryptoCrat 2005
For details, look at Online Help

Download 31 Day Trial Version

Buy Now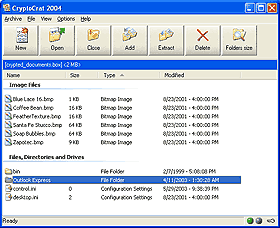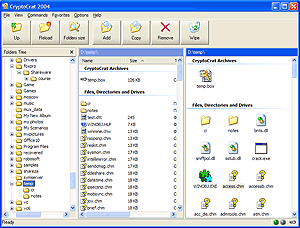 Program Features
CryptoCrat 2005 creates encrypted file from sensitive files/folders.

With encrypted files you can work in same way as you work with zip archives: you can add files to archive, extract all files or wanted files from archive.

CryptoCrat uses all strong encryption algorithms known today, including: Advanced Encryption Standard (Rijndael), GOST, Twofish, Serpent, MARS, Diamond2 and etc.
It also has ability to delete files securely (wipe) after encryption.

Why CryptoCrat 2005?

Easy in use

Handy interface like Windows Explorer

Simple Interface mode for new users and Classic Interface mode for advanced users.


It is possible to encrypt/decrypt/shred files using Windows Context Menu:



An ability to select multiple files and/or folders and copy/move it all to encrypted archive

Built in compression of files to reduce size in transmission. A special feature, which allows using data compression during the encryption process. We use our own compression algorithm, which exceeds WinZip by compression rate.

No "back door" in the software - No access possible under any circumstances. If you do not remember the password you cannot access the encrypted contents. There is no special procedure, secret code, or hidden entry method to fall back on.

CryptoCrat 2005 encrypts every kind of file on every kind of medium, whether floppy disk, removable hard drive, zip drive, tape drive or other

And much more!
More?
Yeah!
Now, CryptoCrat has ability to create strong encrypted self-decrypting exe archives. You send encrypted archives to your friends or colleagues, they enter a password and all files are extracted automatically! No any encryption software is required on a client side.
See screenshot: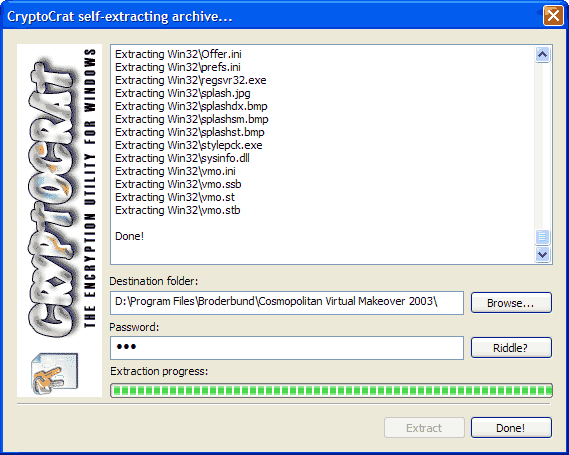 Read what's new in version 4.61 ( October 16, 2005 )


Download free 31 day trial version of CryptoCrat 2005 4.61 (cryptocrat_setup.exe) (1260Kb)
---

Awards
We have so much awards that we are unable to place all them here. Well, we will tell you about some of them:
CryptoCrat won 5 star awards from: bluechillies.com, brothersoft.com, download-web.com, FileTransit, SoftwareAwards.com, Daolnwod.com, file-archive.com, globalshareware.com, shareup.com, softpicks.com, sharewareplaza.com, snapfiles.com, 5cup.com, softforall.com
5 star awards and editor's choice from: topshareware.com, popularshareware.com