Secure Network Chat
Several words before
Secure Network Chat (SNC) - is a text chat solution designed to solve all of the problems in communication between your companyís employees. SNC is especially designed to work with medium and large local area networks, but it is also convenient for small local networks consisting of two and up to several dozen computers. With SNC, your employees will be able to exchange text messages and files and to discuss different items together with several colleagues simultaneously without leaving their work places! SNC has all the features necessary to work with large and small local area networks. Itís very easy to use and it has a great number of additional service features.

Quick Info:
Latest version: 2.6.43
Supported platforms: Windows 95, Windows 98, Windows NT 4.0, Windows Me, Windows 2000, Windows XP
Supported protocols: TCP/IP
Supported networks: Intranet, LAN, WAN, Internet
Features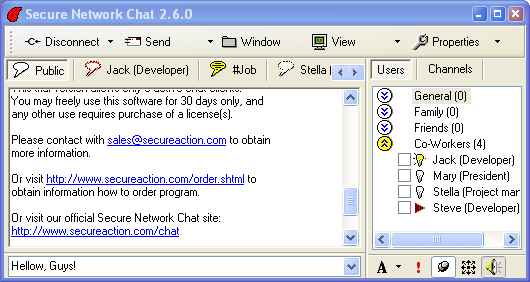 (small screenshot of Secure Network Chat Client)
With SNC you have the opportunity to:
Exchange text messages with a group of your business partners and colleagues.



Organize communication between the company staff members at several subject channels at once. One of those channels may be created for software developers' communications only, another one may be provided for the company's managers, the third will be used by senior staff (such as company directors), the fourth will be fully dedicated to discussions about the company's marketing policy, and so on.



Exchange private messages with other network users and be sure that no one else will be able to read your message.



Create closed communication groups. For example, the new company's policy may be discussed by the company's directors in a special conference, which is closed to all other persons.
Exchange files, not only messages, by means of your network!



Publish your messages at the commonly accessed (for the company's information) electronic Messages Board



Restrict access to the chat for any person



..and much, much more!
Advantages of Secure Network Chat as compared to other similiar products:
SNC uses the client-server technology.

SNC does not overload the network with useless traffic, for it occupies only up to 5% of the network resources even in case of the most active utilization of SNC by the chat members. The programs working without using a dedicated server, which are often advertised as resource-saving, actually are not. The reason is simple, these programs are used to send broadcasting packages, that "choke" 50% of the local area network traffic and sometimes completely block the entire network operation. Using Secure Network Chat you will never encounter problems of this kind!

With SNC chat communications are absolutely secure. All the client-server data communications protocol is encrypted with Blowfish, the most reliable contemporary algorithm, and with a 448 bit key. Therefore, the network packages could never be eavesdropped by different network sniffers. This matter is of vital importance for medium and large businesses! Your information will never become the property of your competitors!

The system of network data packages encryption is based on our strong experience in developing our software products. One of them, GUIDESX Encryption Package is included into the list of top five best cryptographic utilities of the year according to the PCWorld magazine! We are recognized experts in network security, it is our speciality, so you may be sure that your information will remain yours!
Due to the advanced set of additional tools at the server side, and at the client side, your work will always be safe! Event reminders, Automatic ads posting, "Black listings" of unwanted chat users, Automatic check for new messages in the users' mailboxes and many other features will make your work effective and you will find Secure Network Chat fun to use!

The interface is designed to be very easy to use. Anyone familiar with programs (such as IRC and ICQ) will immediately understand how to use Secure Network Chat. The user is able to start working with the program immediately after completing the setup process and setting the server port. An experienced user will easily be able to learn all of the required features quite quickly.

Advanced log-recording means: SNC allows you to log the conversation automatically in any channel, and record and view all the sent and received messages. These features allow you to discuss actual business items and be sure you wonít miss anything because the log is always available.


SNC is designed to eliminate the complexities of network chatting for the end user.
Purchasing
Secure Network Chat is sold by the following scheme: 1 computer - 1 license. Having paid for the necessary number of licenses, you obtain your personal registration key (given to your company's behalf), assigned for the server part of the SNC. After the registration process, the chat-server will allow to participate in the chat discussion simultaneously the same number of chat-clients, as the number of licenses purchased.
Having purchased the required number of licenses you get an opportunity to:
Provide an opportunity to participate in the chat discussion to the exact number of chat clients you just need

Buy as more licenses as you need in future when your company's local area network will enlarge

Get an unlimited technical support by your e-mail

Receive the complete information about all the new versions of this program immediately on their release!

Download and use for free all the new upgraded versions of the Secure Network Chat
- Spotlight -
---
Our respectful clients using Secure Network Chat in their own companies
IBM GSA Laboratories
AllTel Communications
Sulzer Pumps Corporation
Blue Ridge Orthopaedics
---
October 26, 2008
All our products moved to new permanent website intercrypto.com
. Now all products updates, new versions, new products are published on intercrypto.com only.
Versions news archive
---
Become our reseller!
You can get an additional month income by selling our products to your customers. We have good discount rates for every kind of reseller. Please take a look at our reseller's agreement
---
SecureAction Research offers an ability to win ten thousands dollars!
You can win $10,000, Palm V Organizer or Sony DVD Player by means of just recommending our software to your friends!
---
SecureAction Research offers affiliate program ó Any Time, Any Income, on Any Site!
Would you like to earn an additional income by doing almost nothing? Become our reseller of our software. You only have to place a link to our software from your own site. You will earn $$ on every purchase of our software from your site
---
SecureAction Research is looking for volunteers who are able to translate software into another language
You are the one who likes Secure Notes Organizer but you find it unfair that it does not support your native language? Maybe you could help thousands of users in your own country to enjoy using SNO with your native language! We'll provide you with all the necessary information and any materials which could help you to translate software into your language. After successful translation the free license is guaranteed for you!
---
Last column? What can we say... We at SecureAction Research are working hard to create software which is useful for business. Your Business!
.