Secure Family Album

Several words before
Secure Family Album (SFA) is a program with an Outlook-like interface designed to store your digital family photos together in your digital family album. All the photos may be categorized hierarchically. Any single photo, as well as the album in whole may be protected with a password. That will prevent your private photo album from unauthorized access by any irrelevant persons. Please note, that all the photos in your album will be physically encrypted. All the prevailing graphics formats, such as JPEG, GIF, BMP are supported. The program is noted for its intuitive interface, Drag-n-Drop support, ability to allocate your photos in different folders (categories), high speed and reliability in operating. All the above mentioned features make this program almost the best one among the other programs of this class!
Features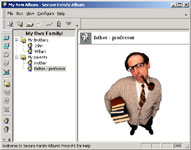 (small screenshot of Secure Family Album. Click to enlarge)
Using SFA you get an opportunity to:
Create new and browse the existing photo albums.

Allocate your photos in subject folders - categories.

Move your photos from one folder to another by means of just a few mouse moves.

Protect any single photo with a password in order to avoid reviewing them by any "interested" persons

Password protect whole albums
What are the advantages of Secure Family Album over most of the other similar products?
Password protected photos get encrypted directly on your data medium. Encryption is accomplished with the most powerful to date BLOWFISH algorithm, using 448 bit key and nonsusceptible to all the export limitations of the key length.


All the new photos being added to your album will be copied directly into the root folder, where your photo album is allocated. Due to this feature, you will never meet a situation when your album contains a link to a photo, while the photo itself is no longer presented on the disc. Moreover, the case of "accidental" removing of a photo now becomes impossible with SFA. This is one of the most favorable advantages of our program over the competitors' products.


Moving your photo album with all the photos included from one place to another is now simple and easy. All you need to do is just to copy the directory where your photo album is allocated, with all its contents, into another place. Having done it, you'll just have to open your album from the other folder, that's all! This feature allows you to avoid problems with data moving when you buy a new computer. Now you just move your album to the new computer, reinstall the program itself and meet no problems with this any more!


The program's interface is not overcharged with superfluous functions, as a contrast to some graphics programs of really monstrous size! The program includes just the very features you may need peculiarly in the process of creating your private family album. Only the necessary features, no waste!


During five years of our existence, we here in SecureAction Research learned to meet most of our users' needs and desires. This program will be developed more and more. The further, the more new features and functions will be added to make the program as useful for our end-users, as possible. The originality of our price policy consists in the following: having purchased our software once you'll never need to pay for any upgrades to it, until you decide to purchase a new version.



View the full-sized screenshot of SFA (1024x768 pixels)
Purchasing
Secure Family Album is sold by the following scheme: 1 computer - 1 license. Having paid for the necessary number of licenses, you obtain your personal registration key. This key will be valid for all the future versions of Secure Family Album.
Prices and purchasing information...
Having purchased the required number of licenses you get an opportunity to:
Use the program within more than 30 days

Never look at the annoying nag screen any more

Get an unlimited technical support by e-mail

Receive the complete information about all the new versions of this program immediately on their release!

Download and use for free all the new upgraded versions of the Secure Family Album