Advanced Encryption Plug-In PRO for Windows Explorer
Several words before
You can read some messages from our clients and FAQ for better knowledge of this product possibilities:
Read frequently asked questions and answers about Advanced Encryption Plug-in for Explorer (updated 03/20/01)

Subscribe to AEPE mailing list (enter your email and name to form at a lower left corner of this page). You'll receive all notification about new versions of our software
Advanced Encryption Plug-In PRO for Explorer (AEPE) is an useful easy-to-use tool for Windows 95, Windows 98, Windows NT and Windows 2000 which allows you encrypt/decrypt/shred/make sfx files with using a power of standard Microsoft Windows Explorer!
It integrates into Windows Explorer and allows you to work with your important files using Explorer's context menu. It is easy as 1-2-3!
This product has ability to encrypt your sensitive files using 17 encryption algorithms.
It is 32-bit (of course), written totally in C++. It is very fast and compact.

Features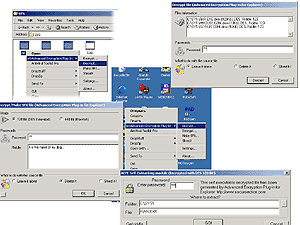 (small screenshot of AEPE PRO. Click it to enlarge image)
With AEPE PRO you are able to:
Encrypt/Decrypt/Safely delete files/Email files by single click on Shell Context Menu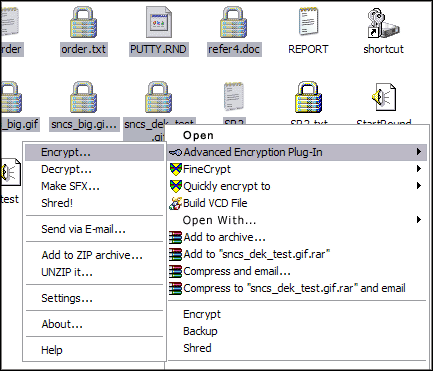 Encrypt files with using powerful encryption algorithm such as:


DESX

BLOWFISH

RIJNDAEL or AES

CAST

3DES

RC2

DIAMOND2

TEA

SAFER

3WAY

GOST

SHARK

SQUARE

SKIPJACK

TWOFISH

MARS (developed by IBM)

SERPENT



Ability to add files to ZIP archives and extract files from ZIP.



Shred (safely remove files from your system). The shredded files will never be restored even with using Norton Unerase software.



Make SFX (Self-extracting archives) from your files. It allows you to send encrypted .exe files to your friends and partners. They do not need to have any software to extract important data with using password - only this sfx .exe file.



Make your files smaller, because AEPE has implemented LZA compression of your data. Your encrypted files will be on 50-500% smaller! And do not worry - you will be always able to restore original files with using your password.



Use a riddle for your password inside encrypted file. You will never forgot your password!



Use the power of standard Windows Explorer to encrypt/shred/make sfx file! AEPE integrates into Explorer and you can use it with a help of context menu.



Ability to send files via e-mail using your SMTP server. This feature supports CRAM MD5, AUTH LOGIN, LOGIN PLAIN smtp server authorization.



And much more...!
Why AEPE?
Based on a non proprietary, open source, public domain encryption algorithm ADVANCED ENCRYPTION STANDARD (RIJNDAEL). It is thought to be one of the strongest in existence and requires relatively little computing power (practically a 1 Mb file can be encrypted in 30 Seconds or less on most desktop machines).

Statistically impregnable against brute force attacks

Built in file shredder - i.e. wiping the contents of the original pre-encrypted file beyond recovery to make sure that not even a trace remains after shredding. (matching and exceeding the specifications of the U.S. Department of Defense) to stop hardware recovery tools.

Built in compression of files to reduce size in transmission.

No "back door" in the software - No access possible under any circumstances. If you do not remember the password you cannot access the encrypted contents. There is no special procedure, secret code, or hidden entry method to fall back on.

AEPE encrypts every kind of file on every kind of medium, whether floppy disk, removable hard drive, zip drive, tape drive or other.

Ability to make self-decrypting files for sending to people who do not have AEPE. The program can be used to create self-extracting files. The recipient can unlock the data by just starting the self-extracting file within Windows and entering the combination.

The only requirement for self-extracting files is that the recipients must be running some form of Microsoft Windows. All they need is a key to access the contents i.e. a totally secure system is possible without any modification of existing mail systems using any mail system that supports file attachments.

Intuitive interface (Windows Shell Integration)

Designed to hide the complexities of encryption technology from the end user.




View the full-sized screenshot of AEPE PRO (1024x768 pixels)
Purchasing
AEPE PRO is a trial software - so, if you decide to keep it, you have to register and pay the registration fee (as low as $34.95).
Registered users will receive all future versions and upgrades free, as well as virtually unlimited technical support.
After purchasing a license you'll be able:
Use program during unlimited time

Use password length more than 3 characters

Use ability to shred files larger than 200 Kb

Make SFX files larger than 200 kb

Receive notification via email about new versions

Free future upgrades